Why India?
Driven by a surging economy, a surplus of well-trained healthcare practitioners and well developed infrastructure , India is now the world's value leader for the international cost-conscious medical traveler.
India is among the top medical tourism destination. Thousands of patients from across the globe get treatment in India every year. Offering world class infrastructure, high end latest medical technologies and one fifth the cost than in any other part of the world, India has positioned itself as the leader in medical tourism. With zero wait for surgeries, use of FDA approved implants and JCI accredited facilities getting treatment in is both a sensible and a wise choice.
We have started this informative page for our health seeking friends and patients from Nigeria which covers all the aspects of traveling to India from Nigeria for excellent medical care and getting treatment in India.

Apollo Hospital
Apollo Hospital is regarded as the pioneer of private healthcare in India. Before the establishment of the hospital, only the well privileged had access to quality treatment. Apollo hospital led the revolution to make world class healthcare available to Indians at a fraction of the cost of global prices. This has led to India becoming the top choice for health tourists from around the world.

BRIEF HISTORY
Apollo hospital is an Indian group of hospital inaugurated in 1983. The first hospital, located in Chennai, carried out its first cardiac surgery in the same year of establishment. Apollo hospitals is generally recognized as the pioneer of healthcare in India. Since inception, the group has treated over 45million patients from 121 countries across the world. Apollo hospital is also the first corporate hospital in India
APOLLO GLENEAGLES HOSPITAL, KOLKATA
Apollo Gleneagles Hospital (AGH) is an arm of the Apollo group of hospitals. It is located in Kolkata. The hospital is accredited by JCI (Joint Commission International), NABL and has ISO 22000:2005 – HACCP Certification. Apollo Gleneagles Hospital, is the top destination for international patients seeking medical treatment in India.

ACCREDITATIONS
Apollo Gleneagles Hospital is the first hospital in East India to receive international healthcare accreditation by JCI (Joint commission International). The hospital is also NABH and NABL accredited.


Apollo Gleneagles Hospital, Kolkata

AWARDS & ACHIEVEMENTS
Only Hospital in Eastern India with JCI accreditation
Only Hospital with NABL certification in six different categories
First hospital in India to get ISO 22000:2005 – HACCP Certification

MEDICAL SERVICES
Apollo Gleneagles Hospital offers medical services for several procedures including:
Arthroscopy
Bone Marrow Transplant
Knee replacement
Robotic Surgery
Hip Arthroscopy
Hand microsurgery
Fractional Flow Reserve
Cosmetic surgery
Minimal Invasive cardiac surgery
Cancer Treatment
OCT Technique – Optical
Gastroenterology
Organ transplant (Kidney, Liver, Heart)
Bioresorbable Vascular Scaffold (BVS)
Da Vinci Robotic Surgical System
Emergency care
Oral & Maxillofacial surgery

Fortis Hospital
Fortis Hospital is one of the leading integrated healthcare providers in India. It is a chain of super specialty hospitals located across various cities in India. Fortis Group of hospitals are also the top choice of international patient seeking medical treatment in India.

BRIEF HISTORY
Fortis Healthcare Limited is a chain of super specialty hospitals in India. It is a leading integrated healthcare delivery service provider in India and also the fastest growing healthcare group in India. The first Fortis hospital was opened in 2001 at Mohali, Punjab with the second hospital commissioned three years later in NCR. In 2005, the group acquired Escorts chain of hospitals and launched Fortis La femme. In 2010, Fortis acquired 10 hospitals from Wockhardt Group to further increase its size. Presently, Fortis has over 55 facilities with approximately 10,000 potential beds and diagnostic centers (including projects under development).

AWARDS & ACHIEVEMENTS
Fortis Memorial Research Institute (FMRI), the flagship hospital of Fortis Healthcare Limited, was ranked 2nd by topmastersinhealthcare.com in a global study of the 30 most technologically advanced hospitals in the world.

ACCREDITATION
Fortis Hospital, Mohali is internationally accredited by JCI (Joint Commission International), the highest healthcare accreditation body in the world. Other hospitals in the group are also accredited by the NABH (National Accreditation Board for Hospitals and Healthcare providers), India's highest national healthcare accreditation body.


Fortis Hospital, India

LOCATION
•Fortis Memorial Research Institute (FMRI), Gurgaon, Haryana – The flagship hospital of Fortis Healthcare Limited. It is the first hospital to pilot precision radio surgery in the world
•Fortis Escorts Heart Institute, New Delhi
•Fortis Flt. Lt. Rajan Dhall Hospital, Vasant Kunj, New delhi.
•Fortis Hospital, Shalimar Bagh, New Delhi
•Fortis Hospital, Noida, Uttar Pradesh
•Fortis La Femme, New Delhi
•Fortis C-DOC, New Delhi
•Fortis Hospital, Mohali
•Fortis Hospital, Mumbai
•Fortis S L Raheja Hospital, Mumbai
•Fortis Hospital, BG Road, Bengaluru
•Fortis Hospital, CG Road, Bengaluru
•Fortis Malar Hospital, Adyar, Chennai
•Fortis Hospital & Kidney Institute, Rash Behari Avenue, Kolkata

CORE SPECIALTIES
Cardiac Sciences
Orthopaedics
Neurosciences
Reconstructive & Cosmetic Surgery
Organ Transplant (Bone marrow, Kiney, Heart and Liver)
Oncology
Dental
Bariatric surgery
Urology
Gastroenterology
Stem cell therapy
Renal sciences
Dermatology
Endocrinology
ENT
Opthalmology
Nephrology
Minimal access surgery

Wockhardt Hospital
Wockhardt Hospital, India, is a tertiary, super specialty healthcare service provider in India. It is one of the best hospitals in India. Wockhardt group of hospitals in India is the top destination for patients from Europe, USA, Middle East, Nigeria as well as Africa at large. The hospital has a special alliance with Partners Medical International, USA. This gives Wockhardt hospitals access to Harvard's expertise in surgery and other medical services.

BRIEF HISTORY
Wockhardt group of hospitals is owned by Wockhardt Ltd., India's 5 largest pharmaceutical and healthcare company. Wockhardt hospital was originally called First hospitals and Heart Institute. It is one of the first corporate health care chains in India. On 11th September 2000 the name was changed to Wockhardt Health Sciences and later changed to Wockhardt Hospitals Limited on 19 October 2000.

ACCREDITATION
Most of the Hospitals under the Wockhardt Group are NABH (National Accreditation Board of Hospitals & Healthcare) accredited. NABH is the highest and most stringent quality standard institution in India. Wockhardt Super-specialty hospital in Mumbai became one of the first hospitals in the whole of South Asia to receive international accreditation from JCI.

AWARDS & ACHIEVEMENTS
Wockhardt hospital is among the fastest growing hospital networks in Asia and is the preferred destination for patients from Europe, USA, Africa, Middle East and South Asia. Wockhardt hospitals adhere to international standards of clinical care by following process driven quality systems with high quality medical and nursing care. Some of the awards received by Wockhardt Hospitals include:
1st hospital in Australasia region to perform Minimally Invasive Beating Heart Coronary Artery Bypass Surgery.
World's 1st Awake Bypass Surgery with valve replacement performed on a patient without general anesthesia.
1st hospital to perform the open heart surgery for Aortic Valve Replacement using stent less valve.
1st Hospital to implant heart failure device as a bridge to heart transplant.
1st Hospital in South Asia to be recognized by the American Blue Cross & Blue Shield association on their worldwide network of participating hospitals.
India's 1st Heart Hospital to achieve ISO 9002 certification.
Wockhardt hospitals join hands with Harvard Medical International (HMI), as associate hospitals of HMI in India.
1st Hospital in India to perform Vertebral Artery Angioplasty
Wockhardt Hospitals, Mumbai is the 1st super specialty hospital to achieve accreditation from Joint Commission International (JCI), USA

LOCATIONS
Wockhardt Group of Hospitals are spread around different locations in India. Some of these locations include Mumbai, Rajkot, Nashik, Surat, Nagpur and Vashi.
•New Age Wockhardt Hospital ltd. It is located at Mumbai Central in the heart of the city's central business district. The 21-storeyed hospital is known for pioneering innovative technology. The hospital is the first fully wireless hospital in Asia, first wireless ECG management system in India and first paperless ICU in Mumbai.
•Wockhardt Super Specialty Hospital, North Mumbai is a 14 storied, 330 bedded multi specialty hospital located in the northern region of Mumbai. They offer hi-end clinical care in Cardiology, Neurology, Neurosurgery, Orthopedics and Joint Replacement surgery. It is also equipped with 9 operation theatres with laminar Air flow system to achieve zero bacterial count.
•Sterling Wockhardt Hospital is a branch of Wockhardt hospital in Vashi. It is a 50 bedded, multispecialty hospital offering care in Neurology, Neurosurgery, Orthopedics, urology, Oncology, Pediatrics, Endocrinology etc. The hospital is equipped with one operation theatre with a dedicated Endoscopic suite.
•N M Virani Wockhardt Hospital, Rajkot offers care in cardiology, cardiac surgery, neurology, neurosurgery, orthopedics, joint replacement etc. The hospital is equipped with 170 beds, 5 operation theatres and a dedicated Endoscopic suite.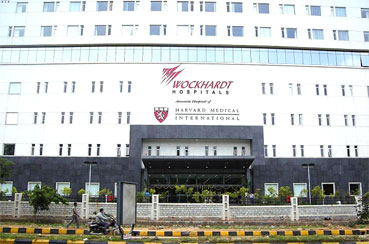 New Age Wockhardt Hospital, South Mumbai
•Wockhardt super specialty hospital:
It is the first NABH accredited hospital in Central India. It has 118 bed spaces and a modern Cathlab. The hospital also has4 operation theatres with in-house diagnostic facilities like CT scan, MRI, EEG & EMG.
•Wockhardt heart hospital, Nagpur: is one of the pioneers of Angiography by the radial method in Nagpur. The hospital has 50 bed spaces, 2 cardiothoracic Operation theatres, Cardiac Catherization Lab, dedicated cardiac ambulance & 24 hour emergency heartline.
•Wockhardt hospitals, Nashik is the first corporate hospital in North Maharashtra. They offer care in cardiology, Neurology, neuro surgery, Orthopedics, Medical and surgical oncology etc. The hospital also acts as a regional referral centre for pathological investigations. The hospital is equipped with 200 bed spaces, 4 operating theatres, digital flat panel cardiac catherization lab etc.
•Adventist Wockhardt Heart hospital, Surat, is a super specialty Heart Care hospital. The hospital has 110 beds, 2 cardiothoracic operation theatres, dedicated cardiac ambulance amongst others.
•N M Virani Wockhardt Hospital, Rajkot.

CORE SPECIALTIES
The Core Specialty of Wockhardt hospitals are:
Heart Care
Bone and Joint Care
Brain & spine Care
Digestive Care
Urology & Nephrology
Aesthetic care (branch of cosmetic surgery)
Gynecology & Obstetrics
Oncology

SUPER SPECIALTY CENTRES
Wockhardt Hospitals has about seven super specialty centres. These are:
Wockhardt Hospital & Heart Institute
Wockhardt Heart Hospital
Wockhardt Brain & Spine hospital
Wockhardt Bone & Joint Hospital
Wockhardt Eye Hospital
Wockhardt Minimal Access surgery hospital
Wockhardt Hospital and Kidney Institute

Max Hospital
Max Hospital is one of the leading chain of hospitals in India, with over 2600 beds, 2300 world class doctors and 13 top hospitals in Delhi-NCR, Punjab and Uttarakhand. The hospital has over 500 ICU beds with the most advanced technology and state-of-the-art infrastructure. Max Healthcare is one of the best hospitals in India.

BRIEF HISTORY
Max hospital, a subsidiary of Max India Limited, is a healthcare institute based in New Delhi, India. The first Max healthcare centre is the Max Multi Specialty Center which is located in New Delhi. It was established in the year 2000. Max healthcare institute operates centres in Delhi, NCR and Punjab region providing healthcare services in various fields. With over 6550 support staff and 2300 leading doctors, Max healthcare has treated more than 2.2million patients from over 80 countries worldwide.

AWARDS & ACHIEVEMENTS
First Medcenter with OP facilities & day care surgeries
First hospital to be ISO certified & first high end secondary care centre in North Delhi
First Super Tertiary Care Facility with Advanced Cardiac Life Support Ambulances and Air Evacuation Service.
Receipient of Express Healthcare Awards for Excellence in Healthcare
D L Shah National Award on 'Economics of Quality' by Quality Council of India
The first hospital ever in India to receive the prestigious Bureau Veritas ( a European Standards organisatio) cGreen OT certification

ACCREDITATION
Max Healthcare group of hospitals are accredited by the NABH (National Accreditation Board for Hospitals and Healthcare providers).
ISO: 14001:2004 Certification
Bureau Veritas (BV), ( European Standards organization) cGreen OT certification


Max Hospital, Gurgaon

MAX HEALTHCARE SPECIALTY CENTRES
Max hospital has several specialty centres spread across India, they include the following:
Max Heart & Vascular Institute
Max Cancer center
Max institute of Renal sciences
Max institute of Neurosciemces
Max Institute of Obstetrics and Gynaecology
Max institute of Pediatrics
Max institute of Musculoskeletal Sciences
Max institute of Minimal Access and Bariatric surgery
Max Institute of Aesthetic and reconstructive Surgery

CORE SPECIALTIES
Max healthcare offers treatment for the following:
Medical & Surgical Gastroenterology
GI Endoscopy & Bronchoscopy
Dermatology
Pulmonology
Anesthesiology
Endocrinology/Diabetics
Mental Health & Behavioral Sciences
Emergency & Trauma Care
24 X 7 Max Chemist
Internal Medicine
Podiatry
General Surgery
IVF
Dental
Ophthalmology
ENT
Dietetics
Rheumatology
Physiotherapy & Rehabilitation
Home Care Services